Competition Details/Schedule
Jump to: Skills Competition Schedule |
THE OPERATIONAL ORDER FOR THE 2024 SKILLS COMPETITION WILL BE POSED IN JANUARY OF 2024. PLEASE STAND BY.
Go Hard or Go Home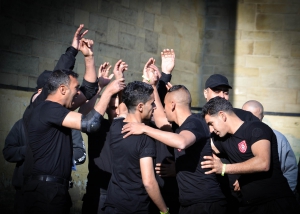 Skills, strength, character, communication, and determination. How do you perform as individuals and as teams against your national and international peers? Find out by participating in our Skills Competition.
The Skills Competition is designed to test skills, training, endurance, communication, and teamwork, but these competitions are not training. From marksmanship, to hostage rescues, to our obstacle course, you'll find our competition exciting and challenging every year.
Test Your Mettle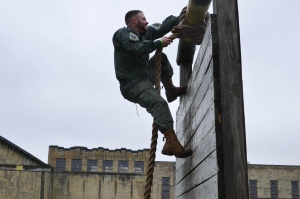 Just as the title of the event implies, it is a skills competition, not a training event. (The Mock Prison Riot portion of the tradeshow comprises training events, but the Skills Competition portion does not.) In the development of each event, every effort is made to put in place specific tasks that are universal in nature and need. Whether you are a part-time operator from a small department or a full-time operator from the largest department, there are skills that any and all team members should be able to demonstrate on demand. As previously stated, this is not a training event, though competing in the event does have some definite and extensive training value. Stress inoculation is recognized in training circles. The competitive nature of this event provides the real stress that is often very difficult to incorporate into your regular training.
The skills events themselves are designed to reward a team that conducts the proper intelligence gathering, team preparation, and task/mission rehearsals and then properly executes the plan. The competition has repeatedly proven the idea that a good plan, which is well rehearsed, is far better than the perfect plan with no rehearsal.
The Obstacle Course event rewards well-conditioned teams and teams who exhibit sound teamwork.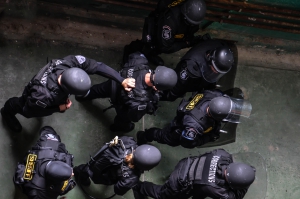 The team competition has drawn up to 30 competing teams from local, state and federal corrections, law enforcement (both domestic and international) as well as military. This provides an excellent networking opportunity as well as a broad base of knowledge from which to draw and gauge your own team's mission readiness and performance under stress.
For 2023, the Skills Competition will be held on Sunday, Monday: 30 April - 1 May. There will be a mandatory Team Leader meeting on Saturday, April 29, 2023, starting at 5 pm at the Training Center onsite at the decommissioned West Virginia Penitentiary. The site will be open from 9 am to 5:00 pm on Saturday, April 27, 2024, for Team Leaders and their Teams for walk-throughs and briefings. The day will culminate with the Team Leader only meeting at 5:00 pm. A standard safety briefing is conducted as well as any basic housekeeping issues. A review of the Operations Order for each event is conducted, followed by a walk-through of the event area with the Lead Judge of the event reviewing or demonstrating each scored task(s). Questions are permitted.
It is then the Team Leader's responsibility to properly relay the information provided at the briefing to his or her team. Just as in a real-world mission, this is a critical skill for the Team Leader. It may not be scored, but deficiencies in this area will absolutely show themselves during the competition. Communication skills are just as important as physical skills.
Command and Signal
The following applies to all Team events:
An Event Coordinator/Senior Judge will be located at the event starting area to provide event briefing, monitor times and pre/post event weapons inspections.
Additional Judges will be stationed throughout the event area to monitor hits/misses, dummy placement, safety violations etc.
The competing Team Leader will be the only team member authorized to address issues/concerns to the Senior Judge at each respective event.
All team communications will be face to face.
Hand held devices (phones/radios) of any kind are prohibited from use or carry by participants during the event.
Judges will utilize 2-way radios to coordinate the events.
We look forward to hosting your team for this event, and hope you enjoy the team building skills and camaraderie our competition offers!
Please note that the Tactical Skills Competition is designed and judged by the West Virginia Division of Corrections and Rehabilitation Special Operations - Tactical Section. The WV DCR does not compete in the event. The WV DCR has extensive experience executing the Mock Prison Riot and Skills Competition.
---
Skills Competition operational order and schedule for 2024
Please stand by. Details will be posted in Janury of 2024
---
Saturday, April 27, 2024
Time: 9 am - 5:00 pm Event locations open to Participating Teams
Time: 5:00pm Team Leader (Team Leaders ONLY) Briefing and Walk-Through
Teams will be assigned a starting order at the Team Leader meeting on Saturday evening. Agencies with multiple teams will go in consecutive order. Once each event is completed, the teams will have 15 minutes to recover, re-equip and report to the next event. Schedule of events are as listed below beginning on Sunday with events 1, 2, 3. Events 4, 5, and Super Swat on Monday. The schedule is subject to change as a result of weather conditions or any other logistical issues that may arise.
Team Leaders will identify any participants for the individual Super SWAT events at this meeting as well.
Each competing team may include up to 20 members who may be assigned to any of the team events. Agencies with multiple competing teams cannot switch members between those teams. There will be no more than 30 participating teams for the Skills Competition. Initial registrations will be for a single team. If slots are still available within the 30-team limit, agencies wishing to run a second team will be permitted to, up to the 30-team limit. If there is an excess number requesting the second team, the additional teams will be selected by drawing at the Team Leader briefing on Saturday.
The Team Leader walk thru is just that, for team leaders or their designee only. Only one representative from each competing team may attend the walk-through. It is the team leader's responsibility to then pass any information gained to their team. If your team leader does not attend this meeting, there will be no additional briefings.
Team members may see the event locations during the 10:00 am-5:00pm Saturday time listed above, however there will not be any question/answers during that time. Any questions should be communicated to the team leader to ask during the formal walk-through.
---
DETAILS FOR 2024 WILL BE POSTED IN JANUARY OF 2024
---
Please note the following:
Events and schedules are subject to change. Scheduling priority in the event of adverse weather, or other contingencies, is given to the Team Competition.
To participate in the Skills Competition, you must have a team of five operators and up to 20 alternates that you can switch out for the various events.
There is a $50 non-refundable registration fee for every attendee.
The West Virginia Division of Corrections and Rehabilitation (WV DCR) plans, manages, and executes the Skills and Super SWAT Competitions. The WV DCR does not have teams or operators participating in the competition.
For teams that may be traveling by plane, weapons can be made available. These will be limited to AR type rifles, Glock Handguns (9mm/.45) and Remington 870 Shotguns.
"Sim" weapons and ammo are used extensively throughout the events. There is also regular use of Flash/Sound Distraction Devices (FSDD) and various soft impact rounds for the shotgun and 37/40 mm systems.
*Any questions regarding the Skills and Super SWAT Competitions may be directed to Major Ronnie Williams at 304.558.2036, or by email at [email protected].