Workshops/Workshop Schedule
Info/Sign Up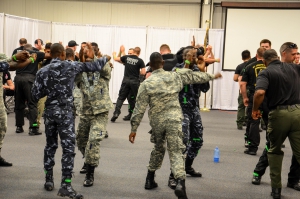 The Mock Prison Riot offers various workshops free of charge each year. Although there is a $50 non-refundable registration fee for every attendee, there is no additional cost to participate in workshops, unless otherwise noted on the schedule.
Topics change from year to year, depending on industry trends; however, we do strive to offer a core curriculum of classes designed to apply to the widest range of our attendees.
Some of the classes we regularly offer include - but are not limited to - chemical and impact munitions, Pepperball, and defensive tactics, just to name a few. We also have offered seminars on new and emerging technologies, hostage negotiations, tactical medical, and effective teaching methods for trainers - again, just to name a few.
We will post classes to this web site as they are scheduled, so that you will have a solid idea of our offerings in advance of your arrival. For a listing of current workshops and lectures, please scroll down.
How to Sign Up
Workshop sign up is conducted on site and in person, one day ahead of time. For example, if you see a class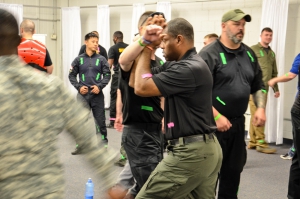 that you want to take on Tuesday, you must be on site to sign up at our designated workshop sign up area on Monday. If you see a class that you want to take on Wednesday, you must be on site and sign up on Tuesday. Many people ask why we require in-person sign up. It has been our experience over two decades, that requiring in-person sign up greatly reduces the amount of no-shows and results in extremely accurate class lists for instructors (this is extremely important for classes resulting in certifications and whereby supplies such as smoke, bangs, and projectiles are being shipped to our facility in advance). We recommend arriving early for sign up, as classes - especially those that result in certification - tend to fill up quickly. Please make sure you pay close attention to our schedules. Some classes/lectures do not have attendance limits and do not require on-site sign up. Also, we occasionally will accommodate an instructor who requests advance sign-up, especially if supplies for the class are costly and/or difficult to ship or if there are specific safety concerns or pre-requisites. These classes will be clearly identified with any special instructions. Please read the schedule carefully.
---
Please check this page often for changes and remember the following:
Enrollment for most workshops and lectures is conducted onsite. The schedule indicates if advance pre-enrollment or on-site enrollment is required. Please pay close attention to what each offering specifies.
If the class is NOT designated as pre-enrollment or on-site enrollment, it is filled on a first-come, first-served basis. Just show up to the designated location for the class/lecture. Most Sunday and Monday classes fit this description.
Onsite pre-registration is mandatory for most Tuesday and Wednesday classes, as these are a lot of our certification classes. These signups are held the day prior to the workshop/lecture. For example, if you want to take a class on Tuesday, you must sign up for it on Monday. If you want to take a class on Wednesday, you must be on site to sign up on Tuesday.
Sign ups for these type of classes are on a first-come, first-served basis. The registration staff or any Mock Prison Riot staff member can direct you to the locations where workshop sign-ups are held.
Many people ask why we conduct workshop and lecture sign ups this way. After more than 20 years, it has been our experience that onsite class registration greatly reduces the number of no-shows. This is especially important for our certification workshop instructors who have to issue certificates and provide thousands of dollars' worth of supplies. Again, please pay close attention to each offering. They are clearly marked.
---
PLEASE STAND BY
The 2024 workshop schedule WILL BE POSTED SOON.